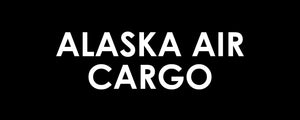 Up to three kicksleds shipped to the Lower 48, aboard Alaska Air Cargo. Kicksleds will need to be picked up at the airport by the customer/recipient.
We will need:
Contact information (phone and address) for who will be receiving the kicksled.
Name of the airport*
*IMPORTANT: Please check Alaska Air Cargo's website to confirm that they deliver to the airport near you: https://www.alaskacargo.com/shipping/locations.